Join The Hiawatha Lodge 2017 Team!
Do you enjoy cleaning? Do you enjoy meeting travelers from around the country and making them feel they are at their home away from home? Or are you looking for a little extra cash and want a job you enjoy in the process?
We would like you to join our team at the Hiawatha Lodge where we value teamwork and helping our staff work towards and accomplish their professional goals. Our team works hard to create a welcoming and refreshing clean space for guests to enjoy! That includes our housekeepers, our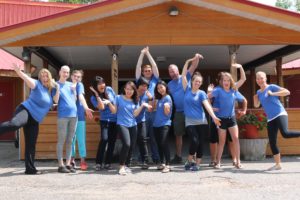 front desk staff and intern positions for short term goals. If you are interested in becoming part of a team that knows that value of working hard and playing hard, then please write us a message below to share with us your interests and goals; and how the Hiawatha Lodge can help you enjoy achieving those today!
Job Postings
Position Available: Cleaner
Description: Support our mission of making travelers comfortable by keeping our guest rooms and common spaces refreshingly clean! This position requires constant moving, some heavy lifting, and a team-oriented mindset. Team Leader ("head housekeeper"), part-time, seasonal, and Sunday-only positions available. Shifts start at 9 a.m. daily; wages based on experience.
Position Available: Paid Internships – Social Media and Customer Service
Descriptions:
Our Social Media Marketing Internship is a short-term, part-time position (10-15 hours/week for 10-15 weeks; total of 144 hours). This is a hands-on opportunity to engage in a social media community in the hospitality industry. You will flex your photography muscles, stretch your video composition techniques, develop creative posts, and participate in active social media networks. You will get to know the personality of our guests; work with fellow staff to create and execute social media initiatives; and graduate with improved social media tools and strategies.
Our Customer Service Internship is a short-term, part-time position (10-15 hours/week for 10-15 weeks; total of 144 hours) offering work experience in the hospitality industry. This is a hands-on opportunity to practice your communication skills and experience the impact customer service has on a business culture. Through training, front desk work, and daily interaction with guests, you will gain proficiency in customer service best practices.
Position Available: Facilities Coordinator (Part-time)
Description: The Facilities Coordinator will assist in continuing general care for building, manage and order inventories, and work as a team member to keep facilities clean and organized. This is an opportunity to participate in a pro-active work environment, to grow with our business during the busy summer season, and to build towards your professional goals in the process. Wages based on experience.
Thank you for your interest in the Hiawatha Lodge.
Our staff will contact with you within 48 hours.