Water Activities Land Activities Kids Activities Festivals/Events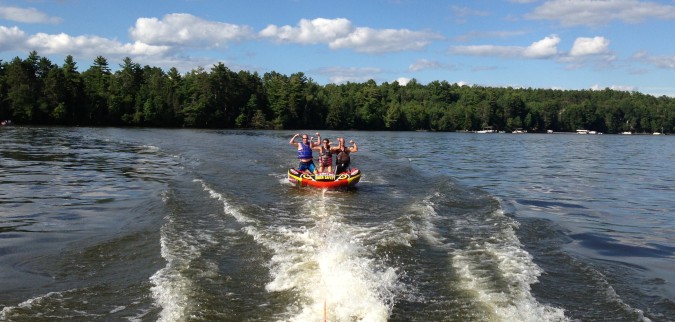 Water Activities
Fishing
The lakes around Eagle River have some of the best bass, walleye
and musky fishing in the country. These are just some of the fish you can find in our lake, and there are many more in the lakes nearby. The rivers and streams in the area are perfect for fly fishing. You can plan your own fishing adventure; also, there are plenty of fishing guides available with years of experience and knowledge of those secret little spots. For bait and tackle shops, and information on fishing licenses, check out our resources.
Boating
Our dock isn't just for fishing boats! The Eagle River Chain of Lakes is excellent for
recreational use as well. Whether you are interested in waterskiing, tubing, jet skiing, or cruising down the lakes onboard a pontoon boat, there is a perfect spot on the chain for you! Off of the chain, you will find more options: sandy beaches, small lakes where motors are not allowed, rivers, streams, and large lakes covering hundreds of acres. We have great maps at our front desk for you once you arrive!
Swimming
There's not much that can beat a refreshing swim in a crystal-clear lake. Some of
our favorite beaches include:
Silver Lake Local Swim & Fishing
The beach has a designated swimming area with a lifeguard, a picnic area, changing rooms as well as a pan fishing pier. It is near downtown Eagle River.
Hunter Lake Boat Landing & Local Swimming
This beach has a scenic backdrop whether you are looking to go for a swim or have a picnic by one of the picnic tables. There is a boat landing and a playground for the younger ones. This park is about a mile from the Hiawatha off of County G.
Kayaking

Kayaking has grown in popularity recently, and rightly so! You have plenty of lakes to choose from (1,300 lakes in the whole Vilas County to be exact and 73 rivers and streams for the more adventurous). Kayaks or canoes can be launched onto the Eagle River Chain of Lakes right from our property. In addition, there are a few places who offer "drop off and pick up" services if you want to kayak down a scenic river—check out our resources for more information.
Eagle Lake Beach Park
This lake has a 440 feet lakefront area, which makes it perfect for swimming. If you're not in the mood to get wet, you can use the boat launch to take your boat, canoe or pontoon down the lake for fun! This park also has a picnic shelter for barbeques, parties, or simple relaxation. From the Hiawatha, you can get to Eagle Lake Beach Park via the chain or the roads – it is about 2 miles away.
Ice Fishing
You already know Eagle River is known for its prestigious fishing in the spring and summer months, but did you also know it has some of the best ice fishing in the winter time? Enjoy all your favorite lakes and discover new ones in some of the most beautiful landscapes of Northern America.
Land Activities
Snowmobiling
Eagle River isn't called "The Snowsmobile Capital of the World" without good reason! Snowmobile over 500 miles in every direction from Eagle River. Known as one of the best places for trail riding as well as family friendly riding, you will find there is always a new trail to blaze and a breath taking scenery to take in! If you are looking for more information, click the link http://eagleriver.org/play/snowmobile/
Bird Watching and Wildlife Viewing
With plenty of forests, marshes and lakes, there's a lot to see when it comes to wildlife. Around Eagle River you can find birds such as Hummingbirds, Woodpeckers, Wood Pewee, Hawks, Winter Wren, Owls, Blackburnian Warbler, Song Birds, Cape May Warbler, Cranes and Ovenbird. Our pride is of course the Bald Eagle! On the lakes or near it you can find birds such as Loon, Great Blue Heron, Mallard, Spotted Sandpiper, Willow Flycatcher and Ducks. Downtown, The Hiker's Box (www.thehikerbox.com) has birding and wildlife guides.
You can also see animals like Whitetail Deer, Red Fox, Raccoon, Beaver and of course the ever-entertaining squirrels.
Biking
It's said that one of the biggest challenges bikers have around the Eagle River
area is where to ride first The options are plenty: gravel, wooded, limestone, paved, and roadside trails. There are National Parks with trails leading deep into the wilderness and shorter, scenic trails by the waterside. Bikers can take scenic loops right from our property. Please see our resource tab for more information, maps and retailers in Eagle River providing both biking gear and bike rentals.
ATV/UTV
Paved roads, dirt roads, you name it! Eagle River is a paradise for 4 wheels. In 2015, Eagle River opened ATV trails in the Northwoods! Enjoy the woods you may already know and discover new parts as you ride in the rain or the bright sunshine! Find out more here http://eagleriver.org/play/atvutv/
Motorcycling
Eagle River is a popular stop for bikers! The area around Eagle River has plenty of scenic drives to take your motorcycle for a ride; also, the Flambeau Dual Sport Motorcycle Path stretches for a whole 185 miles! We have a few of our biker guests' favorite routes listed in our lobby.
Hiking
With over 240,000 acres of public land surrounding Eagle River, there is a lot to explore with hundreds of trails. The different trails will take you past glimmering lakes, peaceful forests and who knows, you might spot an eagles nest while you are out. A few of our favorite hikes are listed in guest room welcome books! Please see our resources tab for more information and trail maps.
Waterfalls
One of our best kept secrets: there are over 100 waterfalls within 100 miles of the Hiawatha Lodge! With varying hiking distances and waterfall features, there are sure to be a few that appeal to your travel style. We featured a few in April of 2016 – check out our blog for more resources!
Snowshoeing
Many of our area's hiking trails are open to snowshoers during the snowy months. We love how the same trails looks so different at opposite times of the year. You can follow a well-worn trail such as Tara Lila, or break in a fresh trail on a more secluded path and discover a part of the Northwoods you have never seen before. Click here to visit our resources page for trail maps.
Cross Country Skiing
Enjoy many of Eagle River's area ski trails through the scenic Northwoods. These peaceful trails never lose their beauty and will get your heart pumping along the way. We have groomed ski trails north, south, and east of us – try a new one every day during your stay! You will find out more about Cross Country Skiing in Eagle River here. http://eagleriver.org/play/silent-sports/
Frozen Waterfalls
Many of the areas waterfalls stay open during the winter months and create beautiful ice sculptures and caves. Delight in a scenic snowshoeing journey to seeing some of nature's beautiful creations.
Hunting
Enjoy your favorite hunting season in the peaceful Northwoods. You will be able to walk the scenic trails and join wildlife in their native habitat. With bountiful hunting ground in Vilas County's national forests, your time spent waiting for the perfect shot will be time well spent. Click here for more information on hunting seasons and licenses.
Fall Colors
One thing Eagle River is never short on is the vibrant golds, reds, and oranges of fall during the season change. The colors you find on the back roads and lakes of Vilas County will leave you breathless as you take time to capture this special moment of nature. Our guests love to drive the county roads and locally famous Military Rd. for twisting, turning views of gorgeous colors.
Kids Activities
Often times, parents are excited to share the beautiful Northwoods with their children, but then aren't quite sure what kid-friendly activities they can plan, especially if the weather is rainy or if everyone is sunburnt! We have some excellent family and kid-friendly establishments in our area! Here is a quick overview of some favorites:
Children's Museum
The Northwoods Children Museum is a place that loves kids, and a place that kids love! Win-win! They are open year-round, 7 days a week and they have special activities and programming weekly and seasonally. A visit to their museum is well worth it, particularly for children ages 2-6. We encourage you to check their website for information on special events as well! www.northwoodschildrensmuseum.com/
Trees for Tomorrow

An accredited resources specialty, is located in the beautiful outdoor classroom better known as the "Northwoods" in Eagle River. They are also open year-round and they host festivals, weekly classes during the summer, and special events during every season. www.treesfortomorrow.com
The Warehouse: Four Seasons Center for the Arts

Eagle River's unique Nonprofit community art center. No matter what artist you presently are or are inspired to be, this art center has something for everybody through all four seasons. They offer classes and special events for kids, adults, and families. Their website is an excellent resource; also, we encourage you to visit their lovely facility when you are walking downtown. www.eagleriverart.com
Hi-Pines Water Park
They are open during the summer months only. Located just ¼ mile south of the Hiawatha, day passes are available for water fun at this park. www.hipines.net
Kartway/Rockin' W Stables and Eagle Falls
Kartway/Rockin' W Stables is a family fun center just ½ mile south of the Hiawatha. You can walk or drive there, and once you arrive, you'll want to spend hours with the mini-golf, race tracks, bumper boats, water balloon contest (one of our favorites – pure, simple fun!), goats to feed and giggle at, pony rides, and beautiful horses. http://northwoodsattractions.com/kartway
Eagle Falls Adventure Miniature Golf and Laser Tag
Located 3 miles away (on Hwy 70 in Eagle River). Another fun family destination with an 18 hole mini-golf course outdoors and an indoor 3,000 square feet laser tag area with multiple levels! www.eaglefallsadventuregolf.com
Pine Point Stables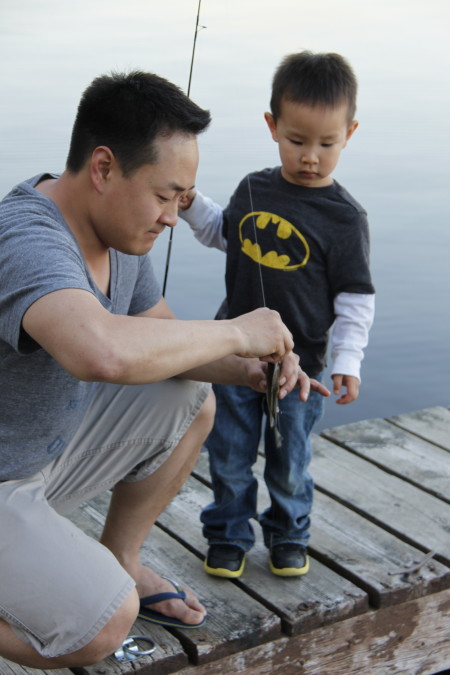 Our guests also enjoy riding horses at Pine Point Stables, about 1 mile north of us on Hwy 45. www.pinepointridingstables.com
Some other places that are farther away, but perfect stops when you want to take a day trip:
Elmer's Fun Park (go kart racing) – 20 minutes west https://elmersfunpark.com/
Paul Bunyan Lumberjack Show & Restaurant – 40 minutes west http://scheerslumberjackshow.com & http://www.paulbunyans.com
Minocqua Nature Center – 40 minutes west www.northwoodswildlifecenter.org
Waters of Minocqua – 45 minutes west www.thewatersofminocqua.com
Wildwood Wildlife Park – 1 hour west http://www.wildwoodwildlifepark.com
Lumberjack Steam Train – 1 hour south http://www.lumberjacksteamtrain.com
Kovac Planetarium – 1 hour south www.kovacplanetarium.com
Festivals and Events
Anyone who has visited one of Eagle Rivers' festivals or who has lived here for very long knows this: we know how to throw a good party! Here are some of the events you can enjoy annually. There are more we could mention, but this will give you a great head start on your Eagle River adventures!!
Fishing Events
Fishing Opener – First Weekend in May
Spring Classic – Early June 10-12, 2016 http://www.headwatersmuskies.com/pages/tournaments.php
Professional Musky Tournament Trail (PMTT) – 3rd week in June www.promusky.com
Fishing Has No Boundaries (special needs' fishing opportunities) – June www.fhnbinc.org
National Championship Musky Open – August 19 – 21, 2016 http://eagleriver.org/featured/musky-open
Journeys Marathon
Every May, runners gather to celebrate the beginning of warm weather with us at the Journeys' events. They include a 5K, ½ marathon, and marathon, all winding through our lovely terrain and culminating in Riverside Park. www.eagleriver.org/featured/journeys-marathon
Up North Beer Fest (June)
Another party you can walk to (or take the Beer Bus!), this festival is held on the lovely Hi-Pines grounds just ¼ mile south of us. June 11, 2016 www.greatnorthernbeerfestival.com
Vilas County Fair
Party like a local with our annual county fair! We love the 4-H exhibits of animals, art, flowers, and vegetables; the carnival rides; the fair food; and the fun music! August 11 – 14, 2016. http://www.travelwisconsin.com/events/fairs-festivals/vilas-county-fair-39951
Paul Bunyan Fest
Downtown Eagle River is fun all year round, but the big sidewalk sale, festival, and events during Paul Bunyan Fest are a true highlight. It's the perfect way to spend a lazy Wednesday in August. August 17th, 2016 (10am – 4pm). http://www.travelwisconsin.com/events/fairs-festivals/paul-bunyan-fest-39880
Cranberry Fest
By far, our most popular festival of the year, Cranberry Fest pulls out ALL the stops! The crafters, cranberry delicacies, cranberry bog tours, and unpredictable weather make this festival memorable year after year (also, a great way to get started on Christmas shopping!) October 1 & 2, 2016. http://eagleriver.org/featured/cranberry-fest/
Annual AMSOIL World Championship Snowmobile Derby Week
Every year Eagle River hosts the best snowmobile racers from around the world in a championship derby that does not disappoint! Not only can do they have the fastest snowmobiles, but they also race some of the best snowmobile from "way back when", restored and ready to go. January 13 – 22, 2016. http://eagleriver.org/businesses/eagle-river-derby-track
Adult Pond Hockey Championships
Hosted by USA Hockey and Labatt Blue, this Eagle River tradition is one to put in the books. It is fun for friends and families of all ages and is held out on one of Eagle River's beautiful lake landscapes. February 5-7, 2016. http://eagleriver.org/featured/pond-hockey-championships