Places to go | Scenic Attractions | Seasonal
---
The options of scenic drives in the Northwoods can be quite overwhelming, as there are so many beautiful routes to explore!  A few of our recommendations include the Heritage Drive right here in Eagle River or others such as the Northern Highland American Legion State Forest, known as Lake Country as well as the Lakewood Auto Tour: Nicolet National Forest.  All of these scenic drives are perfect for getting out and seeing the wonderful fall colors or viewing the amazing sights that the Northwoods has to offer!
The Heritage Drive Scenic Byway offers beautiful view of fall foliage that is made up of a mix of hardwoods, giant hemlocks and pines.  While enjoying the beautiful fall colors, you will find the perfect spot to stop and see freshwater lakes or a place to get out to stretch your legs by hiking on the trails or gathering for a picnic stop.  Along this route there are also historical sites that you may enjoy such as Native American archaeological sites and military routes left from the Civil War.  The actual route itself is also full of history!  Once known as Military Road, this byway was built to transport guns, ammunition and troops north in the event that the English invaded from Canada.  The road was used primarily by traders, early settlers, loggers, and Native Americans.  This route is truly rich with history and gorgeous scenery, fall is definitely the best time to take this route and see the leaves change to beautiful reds and yellows amongst the contrast of the green hemlocks and pines.  Please check out the link below for a map and more information on this route!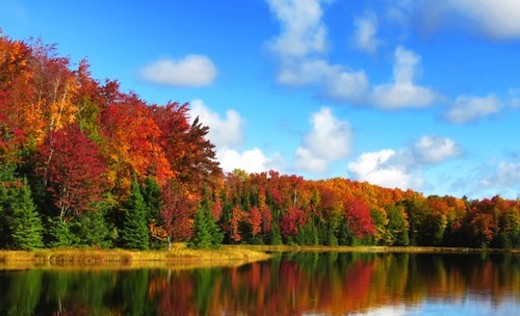 The Northern Highland American Legion State Forest drive is a 105 mile drive that runs through the Northern Highland American Legion State Forest as well as the Lac du Flambeau Indian Reservation.  Here in the Northwoods and surrounding area we are blessed in the Northwoods and in this area especially to have one of the highest concentrations of lakes in the world.  The lakes in this area are full of trophy fish and the forest is overflowing with wildlife of all sorts for you to enjoy!  There are many trails for you to enjoy along the way for year round Northwoods adventures from hiking to snowshoeing and cross country skiing.  There are many special attractions for you to enjoy along your way such as the Rhinelander Logging Museum, Lac du Flambeau Cultural Center, the world's first modern snowmobile, and the Snowmobile Racing Hall of Fame just to name a few.  If you are looking for a complete description of the scenic drive with a route map and more information, there is an eTrail and you can find all this information and more at the link below!
Another trip for you to enjoy is the Lakewood Auto Tour in the Nicolet National Forest!  The drive follows the 65 mile Lakewood Auto Tour that is maintained by the Nicolet National Forest.  This circular route explores the forest and forest industries from past and present with seventeen tour stops.  These stops highlight wildlife, natural history, forest management, and historic site.  Some special attractions you will get to enjoy along these stops include Cathedral Pines great blue heron rockery, Mountain Fire Tower and logging camp ruins.  In addition, there is the opportunity to participate in outdoor activities such as hiking, fishing, camping, having your own wildlife "safari" and canoeing.  You can stop in at the Lakewood Ranger Station for a map or find it on-line as this is also an eTrail.  This eTrail has a complete description of a great scenic drive with a route map and information for the best travel seasons, unique spots for a quick rest, recreation opportunities, camping locations, and much more.
If you are interested in more options available close by for scenic tours in the Northwoods and surrounding area, ask us at the front desk as we would be happy to give you more information on what is available in the area.  Whether you are looking for some great options for hiking and canoeing, or are looking for something to do during this fall season, there is always beauty in every season for you to discover in the Northwoods.
Heritage Drive Scenic Byway Route
Northern Highland American Legion State Forest Drive